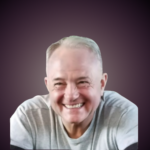 Barry Fetzer
Barry supports JCTM as the Chairman of the Honorary Advisory Committee based in New Bern, NC.

Barry is blessed to be a husband, a father (to two daughters and a son), a son, a brother, a grandfather (to six grandkids), an uncle, a cousin, a nephew, and a friend. He's also a retired US Marine Corps pilot and former commanding officer and is certified as a DoD program management professional. He holds a Master's Degree in leadership and management, taught leadership, management, and communication courses at the Master's Degree and undergraduate college levels, and is an eight time winner of NC Press Association awards for writing.

Barry serves on the Board of Directors of the Eastern Carolina Aviation Heritage Foundation as the Board Historian. He is the President of the Middleton Place Homeowners Association Board of Directors and works as a line technician at the Moore County Airport in Southern Pines/Pinehurst, NC.